Spacious Lakefront Lodge


4 Bedrooms * 2 Baths * Sleeps 4-12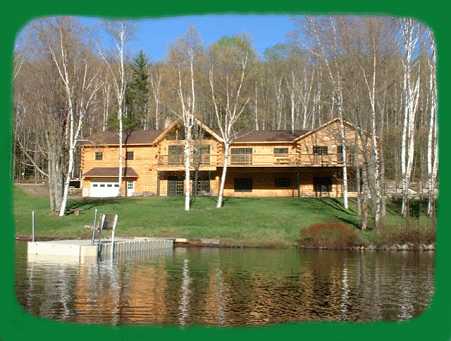 Nestled at the northern edge of the White Mountain National Forest are two of the clearest lakes in the State of New Hampshire. Surrounding these lakes are hundreds of acres of National Forest with world class hiking trails, dirt roads for mountain biking, numerous fishing holes, and a fresh water beach. This is the setting for Two Lakes Lodge, a new Country Inn located within the boundaries of the White Mountain National Forest on the edge of one of those pristine lakes..
The Lodge was built in 2001 to provide total comfort and relaxation while providing an outdoor experience you normally can only find with backpack camping. Trees around the Lodge were carefully preserved during construction providing privacy and summer shade. The natural contours of the land were left in place providing a gentle slope from the Lodge to the waterfront. There is an unobstructed view from every room, including the two attached garages. A large deck looks out over the lake and surrounding mountain peaks placing you in the middle of the Forest with all the modern conveniences just steps away.
But the most stunning features at Two Lakes Lodge are provided by nature: dramatic mountain views, crystal clear water, the golden silence of the woods broken only by the sounds of wildlife and a spectacular starlit night sky. Privacy, beauty and serenity are calling cards for the Lodge.
The Lodge accommodates up to 12 people and is available for weekend or weekly rentals (Please see rates page for minimum stays).